Branch Ideas
What are you going to include in your branch programme this year?
Mothers' Union branches exist to enable members to meet together, express their joys and sorrows, share ideas for outreach work and to enjoy fellowship with one another. Meetings don't have to be costly or take vast amounts of planning and can come in many forms. Here are some ideas to get you started with a focus on meetings that you can organise yourselves rather than inviting a speaker.
Fellowship Ideas
Branch ideas to help share our experiences of family life and find out more about each other in a relaxed and enjoyable way.
Help Us Grow
Personal invitation is known to be the most successful way of bringing people to membership of Mothers' Union.  Our  Help Us Grow resources are designed to give you ideas to welcome prospective new members, to envision your existing branch members and to promote Mothers' Union within your local community.  Download the pack today for great ideas to get  Mothers' Union flourishing in your area. 
---
Are you labelled for life?
A development from the highly successful Bye Buy Childhood campaign is Mothers' Union's Labelled for Life publication to help families deal with the commercial and sexualised influences their children may face. The book is available to order from Mothers' Union's head office. A second edition will be published during 2015.
One of the sections looks at the commercialisation of adults. How much are members in your branch influenced by advertising?
Have a branch discussion considering the following questions:
What is your most recent major purchase?
If it was the first time you've owned such an item:
Why did you decide you wanted/needed this item?
If it was a replacement purchase:
Were you replacing an item which was broken/worn out?
Was the item you were replacing still serviceable, but you wanted a new item?
What influenced you in making your purchasing decision?
Have a quiz with pictures of commercial logos with brand names removed. How many can your members identify?
---
Bible sale
Ask each member to bring a saleable item mentioned in the Bible, with the appropriate reference.
In turn, members show the item they have brought and read the Bible passage. Larger branches might need to divide into smaller groups to do this.
Sell all the items brought for a Mothers' Union fund.
(Thanks to Mothers' Union Diocese of Sodor & Man for this idea)
---
Pass the Fairtrade parcel
This is a fun activity for a branch meeting that also increases our knowledge and awareness of Fairtrade.
Put together a set of questions relating to Fairtrade (there is a quiz on the Fairtrade Foundation website).
Find a large copy of the Fairtrade logo and cut it into pieces.
Make up a Pass the Parcel using a Fairtrade end prize.
Between the layers of the parcel, put either a question relating to Fairtrade or a piece of logo.
Play Pass the Parcel as normal with music.
When the music stops, if the person who unwraps the layer:
finds a Fairtrade question, this should be read out and everyone asked to help with the answer as this should stimulate some discussion. Make sure you have the answers to hand.
finds a piece of the Fairtrade logo, this should be put on the floor or a table and pieced together.
As with any game of Pass the Parcel the winner is the person who unwraps the layer to reveal the prize.
You might like to have some additional facts and figures about Fairtrade – and don't forget to serve fairly traded tea, coffee and biscuits.
(Thanks to Mothers' Union Diocese of Canterbury)
---
Link quiz
Put together an easy quiz based on your diocesan link dioceses. There is lots of information in Families Worldwide as well as on the internet.
You could include:
Mix and Match
Using the countries where your link dioceses are found, put a list of countries and a list of the language spoken, the currency and/or the capital city and ask members to match them up.
Name the Country
Put an outline of each of the countries and ask members to name them.
Link Questions
Put together some questions about your link dioceses/countries from Families Worldwide. You could leave out the appropriate editions so everyone can look up the answers.
Word Search
Compile a word search with names of dioceses, people and so on.
(Idea contributed by Mothers' Union Diocese of Canterbury)
---
Different Beetle Drives
Members enjoy meeting together for a social event and everyone loves a Beetle Drive! It can be a great opportunity to invite non-members to find out more about Mothers' Union – and raise money for a diocesan or worldwide Mothers' Union fund.
---
The Traditional Game
This game is played in pairs. Two pairs sit at a table, facing their partner. Each player takes it in turns to throw the dice, with the number thrown corresponding to a beetle body part to be drawn:
6 = body (1 and must be drawn first)
5 = head (1 and must be drawn before eyes and antennae)
4 = wings (x 2)
3 = legs (x 6)
2 = antennae (x 2)
1 = eyes (x 2)
As soon as a pair has completed a full beetle body, they shout 'Beetle' and the game ends. Everyone adds up their scores - each body part is worth one point. The pair with the highest score on the table move to the table on their right.
It's usual to play six or eight games in a session. At the end of all the games everyone adds up all their point scores and the pair with the highest score win a prize.
---
AFIA Beetle Drive
Instead of drawing a beetle, draw an AFIA caravan: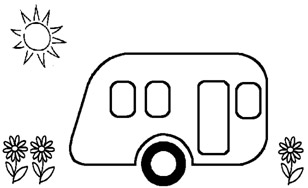 6 = Caravan
5 = Sun
4 = Flowers (x 3)
3 = Window (x 3)
2 = Door
1 = Wheel
After three or four games give a brief talk about AFIA and follow with a further three or four games of AFIA Beetle.
Use your imagination to make the game fit other Mothers' Union projects that need funding.
(Thanks to Mothers' Union Diocese of Chester)
---
How do you see Mothers' Union?
Ask a group of members (or the whole branch) to think about an image that reminds them of Mothers' Union – a famous painting, a tree in their garden, a family photo, a piece of sculpture, an object in their house – and to come prepared to talk briefly about how they feel this image relates to Mothers' Union. It's an added bonus if the image (or a picture of it) can be brought to the meeting for others to see.
---
Core values of Mothers' Union
This activity encourages members to think about what Mothers' Union is really about and how it applies to their local community.
Start off by reminding everyone of the mission and values of Mothers' Union.
Cut out appropriate articles from your local newspaper (free papers are ideal) which relate to marriage, family life and the protection of children.
Ask members to select an article and think about:
how this relates to Mothers' Union
ways in which members can respond to the topic either by praying, campaigning or enabling.
Depending on the size of your branch you could either discuss these altogether or divide into smaller groups. If you do divide into groups, spend some time at the end sharing your discussions with the whole branch.
(Thanks to Mothers' Union Diocese of Winchester)
---
Branch Ideas will be regularly updated so that you can keep your programme fresh and relevant and include topics that relate to current Mothers' Union initiatives and campaigns. We also want to hear from YOU! If you have had a successful meeting in your branch let us know so we can share your good ideas with others. You can visit Inspired  to get more ideas.