Parenting Worldwide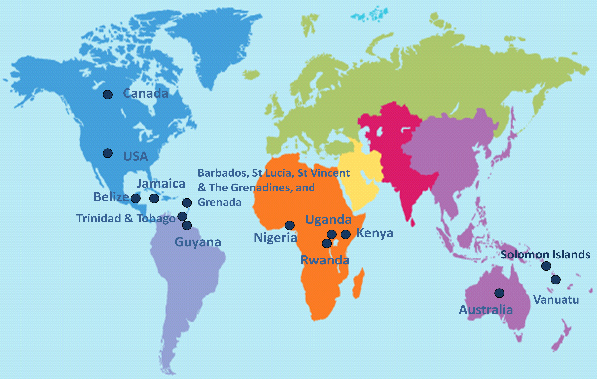 Promoting the importance of parenting and its impact on family life is a universal goal for Mothers' Union members worldwide.
The Worldwide Parenting Programme (WPP) is a global Mothers' Union programme that sees local facilitators trained to deliver an 8-12 week course with community groups. Usually groups meet once a week for up to 12 weeks in order to discuss different topics and share parenting experiences. Locally contextualised resources guide the groups through sessions that cover the highs and lows of parenting, the parent-child relationship and sensitive issues such as sex education. Above all, the programme empowers individuals and brings together communities from varying ethnicities and backgrounds in order to overcome common problems collectively.
Following a pilot phase, the WPP was implemented in Kenya, Uganda, Rwanda, Trinidad & Tobago, Jamaica and Guyana in early 2005. In each country the programme has been tailored to take into consideration specific local needs and contexts. The WPP has since expanded to Barbados, Canada, Nigeria and the USA. In 2011 the programme expanded into Melanesia, Belize and the Windward Islands in the Caribbean. Due to the demand for expansion of the programme, Mothers' Union supports a worldwide  parenting trainer to enable the programme to be shared and replicated in new areas.
With the growing success of the WPP the next challenge is for Mothers' Union to help ensure the sustainability of the programme. This can, in part, be achieved through the training of trainers. The worldwide parenting trainer recently taught 26 trainers in Rwanda. These trainers will now be able to go out and train further facilitators allowing for both expansion and continuity of the parenting programme. By training more trainers, each regional Mothers' Union can strive towards the expansion and successful delivery of the parenting programme in their own home context with less dependency on training by foreign staff.
Our Worldwide Parenting Programme facilitators have a huge impact on the parents who attend their parenting sessions:
People are really thirsty for parenting knowledge in the communities."Parenting facilitator, West Indies
It has helped me to become a better parent to my children and befriend them."
It has helped me have time with my own children. In our culture parents do not have time with their children. The programme has therefore helped parents know the importance of sitting together as a family to discuss issues."
How to get involved
Join today and support the work of Mothers' Union.
Donate now to enable more people to train as parenting facilitators and help more families across the world.
Pray - join a worldwide network of Christians, constantly upholding our work.